As a company, protection dog training which prioritises suitability for family environments is our bread and butter. Anyone can buy a dog breed known for its natural guarding abilities, but much more goes into training and developing the perfect family protection dog. Despite coming from a specific breed, not all dogs may be suitable for protection dog training. We seek to determine this at a very early stage, and only work with dogs who have passed a rigorous assessment process while still young. This will determine their courage, trainability, and most importantly of all, stability of temperament.
Once appropriate dogs have been identified, they are taken to Protection Dogs Worldwide's training facility. Currently, this is located in the North East of England. Initially comprising of intensive obedience and environmental training, this will develop our young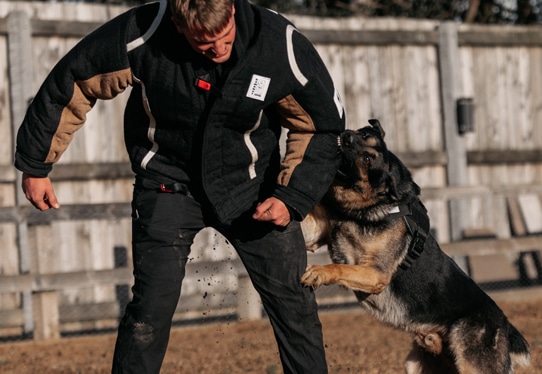 dogs' character and work ethic until they are ready to move on to more advanced protection and bitework. Control is key here, and all dogs – at an absolute minimum – must be able to leave a bite at an instant on a single word of command. This is just one of the reasons why we place such a strong emphasis on creating an initial foundation of obedience training.
Other elements of our protection dog training programme are extensive socialisation with fellow dogs, animals, and humans. As we specialise in family protection dogs, it is only natural that our dogs spend time with us in our own homes and with our children. We would never sell a dog that we would not allow around our own children, and this is one of the many things which separates us from most guard dog training companies.
Following thorough and careful assessments, we also occasionally take on clients' own dogs for bespoke protection training. This is usually residential, and is tailored to your specific needs and dog's abilities. To find out more about any of our protection dog training programmes, please email [email protected] We will be happy to help, and look forward to hearing from you.